Episodes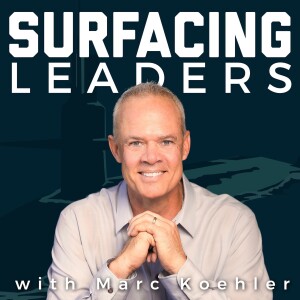 Wednesday May 24, 2023
Wednesday May 24, 2023
Welcome aboard Surfacing Leaders, the captivating leadership podcast that delves into remarkable journeys of leadership, hosted by none other than former United States Nuclear Submarine Officer, turnaround CEO, founder of Lead With Purpose, and author of Leading With Purpose, Marc Koehler.
In our inaugural episode, Marc himself steps into the spotlight as he sits down with Kim Touchton, the Chief Marketing Officer of Lead With Purpose, to recount his own transformative path to surfacing as a leader.
Prepare to be enthralled as Marc takes you on an extraordinary voyage, tracing his evolution from a timid child desperately seeking confidence to a dreamer whose aspirations of becoming a fighter pilot were crushed. But fear not, as Marc's story takes an inspiring turn. Discover how he found his stride through the rigorous leadership training he underwent as a member of the U.S. Navy, a journey that unfolded 400 feet beneath the surface of the vast ocean.
But that's just the beginning. Marc provides an exciting glimpse into the future of Surfacing Leaders, giving listeners a taste of the diverse narratives awaiting them in future episodes. From the captivating realm of a movie set to the harmonious symphony of an orchestra, and the bustling tarmac of an airport - each episode promises enthralling stories of leadership found in unlikely places. In addition, thought-provoking discussions await, exploring the intricacies of leadership in our rapidly changing world, intertwined with the indomitable human spirit that propels us all forward.
Consider yourself cordially invited as Marc and his remarkable guests embark on the exhilarating journey that is Surfacing Leaders. Brace yourself to be inspired, to nurture your confidence, and to unearth the timeless wisdom of leadership, right from where you stand.
Prepare to dive into the immersive world of Surfacing Leaders, where extraordinary leadership is explored, celebrated, and shared. Welcome aboard!