Episodes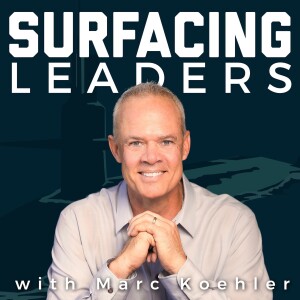 Friday Jul 07, 2023
Friday Jul 07, 2023
Dive into the waves of leadership as Surfacing Leaders host Marc Koehler, who moved to Oceanside with his family 25 years ago, shares the inspiring story of Leslee Gaul, a visionary leader who has left an indelible mark on the sandy shores of their hometown. Marc and Leslee's paths crossed years ago when they collaborated on coordinating beachside soccer tournaments in Oceanside during the time that Marc was coaching girls' soccer. Now, Marc is eager to showcase Leslee's journey of surfacing as a leader and her instrumental role in shaping Oceanside's remarkable transformation.
Like the ebb and flow of the ocean's tides, Leslee's career history unfolds with a resounding impact on the community around her. Marc and Leslee's conversation reveals her authentic leadership style, skillfully navigating the currents of change while staying true to her vision of what Oceanside could become. 
From humble beginnings with a modest budget, Leslee's unwavering commitment to Oceanside's growth surged forward, like a wave gaining momentum. She fearlessly advocated for her community, weathering the stormy challenges of 9/11, the housing market downturn, and the tumultuous waves of the COVID-19 pandemic. Her unwavering dedication ensured that Oceanside remained a safe and inviting haven for visitors and locals alike.
Listeners will gain valuable leadership lessons from Leslee's experiences. They will discover the power of authenticity and genuine care in building meaningful relationships and fostering trust within a team. Leslee's strategic approach to leadership and her ability to navigate challenges with resilience and a visionary mindset will inspire listeners to embrace calculated risks and drive positive change in their own endeavors.
The episode highlights the importance of lifelong learning and the value of building a team that shares the same passion and commitment to a shared vision. Listeners will learn how empowering others and creating a culture of expertise can lead to remarkable success and transformation.
Leslee's role in managing the disruptive impact of platforms like Airbnb offers insights into adaptability and decision-making. Listeners will gain a deeper understanding of how to lead in changing market dynamics and level the playing field within their respective industries.
Marc and Leslee reflect on Oceanside's growth and its shift from a pass-by destination to a sought-after stop for travelers. Listeners will discover the significance of creating exceptional experiences, story-telling, and leveraging unique strengths.
And of course, having the Top Gun house downtown on the beachfront certainly helps!
Embark on an immersive journey through the depths of leadership with Marc Koehler in this captivating episode of Surfacing Leaders. Discover Leslee's remarkable voyage as she expertly navigates the tides of change, leaving an enduring legacy that washes over Oceanside's sandy shores. From the crashing waves of challenges to the shimmering hope of transformation, Leslee's story embodies the true essence of surfacing leaders. Gain valuable leadership insights and be inspired to make a difference in your own community or organization, embracing authenticity, empowering others, and driving positive change.