Episodes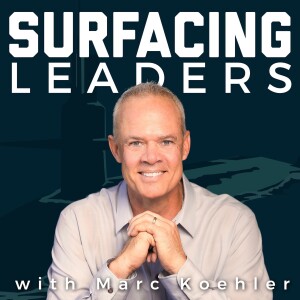 Friday Jun 09, 2023
Friday Jun 09, 2023
Episode 2 of Surfacing Leaders showcases John Murphy, an Emmy-winning writer and producer, fearlessly sharing his transformative journey to leadership in the television industry. Prepare to be captivated by vulnerability, enchanted by humorous moments, and inspired to embrace your own path to leadership.
Embark on a thrilling journey through the captivating world of television as John Murphy bravely reveals the transformative leadership lessons that propelled him to the forefront of the industry. This extraordinary episode will have you on the edge of your seat, alternating between laughter and profound insights that leave you yearning for more.

Throughout the episode, hear the raw power of vulnerability as John shares his remarkable rise from humble beginnings to the pinnacle of success. Brace yourself for an exhilarating rollercoaster ride of emotions, as he fearlessly unravels the challenges, triumphs, and failures that surfaced the leader he is today.

Also, discover the leadership tools that enabled John to forge unbreakable bonds with his team amidst the fast-paced world of television. Most importantly, learn the art of communication, as he guides you through the transformative power of honesty and authenticity—illuminating the path to unparalleled achievements.

But this is no ordinary tale of leadership—laughter dances hand in hand with wisdom throughout the episode. Delight in the whimsical moments and hilarious tales that provide respite from intense introspection, leaving you both enlightened and entertained.

As the curtain falls on this awe-inspiring episode, prepare to embark on your own introspective journey. John's stories will ignite a fire within, urging you to embrace your vulnerabilities, surface the leader within yourself, and seize the boundless possibilities that await.

Join us for an unforgettable experience as John Murphy shares his incredible journey, leaving an indelible mark on your heart and mind. Don't miss out on this extraordinary episode!