Episodes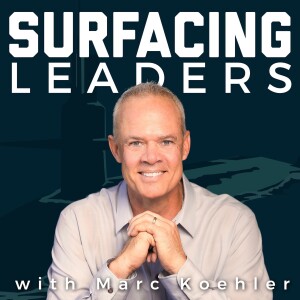 Friday Sep 01, 2023
Friday Sep 01, 2023
In this heartwarming and inspiring episode of Surfacing Leaders, Marc Koehler has the privilege to sit down with Executive Director of Northbrook Park District Molly Hamer, a real-life Leslie Knope (Including being a mother of triplets! We see you Parks & Recs fans). Molly's unique leadership story is one of self-discovery, transformation, and a profound commitment to nurturing the human spirit.
The episode begins by exploring a pivotal moment in Molly's life: a transformative trip to Bolivia. This eye-opening experience left an indelible mark on her, driving her passion for community engagement and social responsibility. Molly and Marc explore how this journey reshaped her perspective and deepened her commitment to creating a positive impact on her community.
Listeners will hear about Molly's early days as a young recreation supervisor, where she embraced her role with the same enthusiasm she encourages everyone to bring to their lives. As she surfaced as a leader in the Parks & Rec world, she quickly rose through the ranks, eventually leading 45 people, but her true leadership journey was just beginning.
What also sets this episode apart is Molly's candid sharing of the challenges women, particularly mothers, face in leadership roles. As a dedicated triplet mother, Molly vulnerably reflects on her experiences navigating the industry and her rising career while balancing the demands of motherhood. She discusses the often-unspoken challenges that women, especially mothers, encounter in their careers, highlighting the importance of addressing these issues in the workplace.
Molly's mantra, "Play Every Day," takes center stage in this episode, emphasizing that play means different things to different people, and it's an essential part of personal and professional growth. She encourages listeners to discover their own unique paths to play and self-discovery, offering valuable leadership lessons along the way.
As the episode concludes, Molly and Marc engage in one of the most powerful endings we've ever had on Surfacing Leaders. Molly's words regarding mental health and combatting negative self-talk resonate deeply. Listeners will be inspired to take some time to absorb Molly's wisdom and reflect on how her experiences and lessons can positively impact their own leadership journey.
Join Marc Koehler and Molly Hamer on this insightful journey that explores the transformative power of leadership and the impact of embracing play every day. This episode promises to leave you encouraged and empowered, with newfound perspectives on leadership and personal growth.