Episodes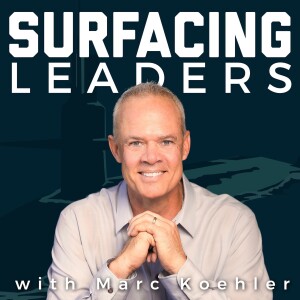 Friday Sep 15, 2023
Friday Sep 15, 2023
In this episode of Surfacing Leaders, join host Marc Koehler as he delves into the world of morning routines and leadership with Jarvis Leverson, the founder of Morning Hero. Jarvis shares his transformative journey from hitting rock bottom to discovering the power of morning routines which surfaced him as a leader to become a beacon of motivation for countless individuals seeking to level up their lives.
Discover the winning formula for morning success, from waking up earlier and setting intentions to using time-blocking techniques. Learn how embracing morning rituals can empower you to become a better leader, partner, and parent. Jarvis emphasizes the importance of self-care and how it fuels your ability to positively impact others.
Explore the simplicity of this life-changing approach and understand why starting with yourself every morning can lead to a more fulfilling and purpose-driven life. Tune in for practical insights, actionable tips, and inspiring stories that will guide you on your journey to becoming a morning hero and a true leader in your own life.
Listen to this episode to unlock the secrets of morning mastery and discover how small changes to your daily routine can make a monumental difference in your leadership journey.