Episodes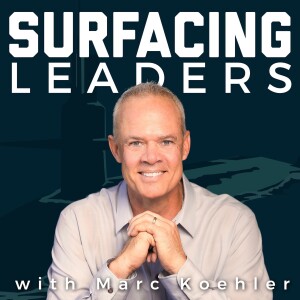 Friday Nov 10, 2023
Friday Nov 10, 2023
In this episode of the Surfacing Leaders podcast, host Marc Koehler engages in a deep and enlightening conversation with Bob Goodwin, the founder of Career Club. Career Club is an innovative organization dedicated to helping individuals navigate career changes and challenges successfully. Bob shares valuable insights on how people can gain clarity, find their purpose, and effectively transition to new careers.
The episode begins with Bob emphasizing the importance of attitude as the foundational element of personal and professional growth. He introduces the "KEEL" acronym, which stands for Know, Emotional Ups and Downs, Expect the Best, and Let Go of the Past. These principles form the basis for maintaining a strong and positive attitude through life's ups and downs.
Bob discusses the key skills companies are looking for in employees, highlighting curiosity, agility in learning, and resilience as critical attributes in today's rapidly evolving world. He also emphasizes the importance of staying curious, continually learning, and developing resilience to bounce back from adversity.
The conversation touches upon personal branding, and Bob encourages listeners to connect with Career Club, regardless of their current career status. The organization's resources and insights can provide clarity and direction for anyone seeking to lay down a strong keel to navigate life's uncharted waters effectively.
Throughout the episode, listeners are inspired by Bob's wisdom and insights. His passion for helping people find their purpose and achieve career success shines through, making this episode a valuable resource for those looking to gain clarity, adapt to change, and thrive in their careers.
If you're seeking to surface as a leader in your own life and career, receive guidance on personal and professional growth, understand the critical skills companies are looking for, or find clarity in your career journey, this episode offers essential wisdom and inspiration to help you navigate uncharted waters with confidence and purpose.