Episodes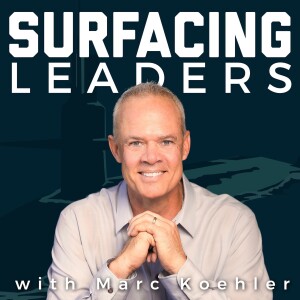 Friday Aug 18, 2023
Friday Aug 18, 2023
In Episode 7 of Surfacing Leaders, host Marc Koehler engages in a fascinating conversation with retired police chief Fred Armijo, tracing his remarkable journey of surfacing as a leader in public service first as a lifeguard, then as a police officer, and ultimately as police chief.
Fred's 29-year career in law enforcement is a testament to his unwavering commitment to service and leadership. Starting as a lifeguard, he cultivated a foundation of responsibility and quick decision-making on the shores of California. He shares how the principles of vigilance and proactive intervention from his lifeguarding days seamlessly transitioned into his role as a police officer, shaping his approach to leadership and public safety.
As Fred recounts his ascent through the ranks, listeners are treated to captivating stories of his experiences as a police officer and his transformative journey to becoming a police chief. He reveals how his dedication to "work hard, be nice, change lives" became the guiding mantra that propelled his leadership style. Marc and Fred discuss his innovative use of video messages to connect with his team, fostering a sense of unity and camaraderie.
The conversation takes an introspective turn as Fred opens up about the challenges he faced as a leader. He reflects on the balance between trust and accountability, sharing how the concept of "blind trust" taught him the importance of checks and balances in leadership. Fred also shares his insights into the value of comprehensive execution and perseverance, vulnerably highlighting the lessons learned from initiatives that lacked follow-through.
As Fred embarks on a new chapter as a farmer, the episode concludes with a discussion on the timeless principles of leadership that he honed during his time as a lifeguard and police officer. From leading by example to engaging in inclusive decision-making, Fred's journey is a testament to the enduring impact of authentic and adaptable leadership.
Tune in to Episode 7 of Surfacing Leaders to gain a deeper understanding of the roles of collaboration, connection, and innovation in Elite Leadership. Marc Koehler's insightful conversation with Fred offers valuable takeaways for both seasoned leaders and aspiring ones, revealing the transformative potential of leadership in unexpected places.