Episodes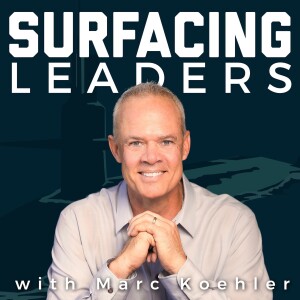 Friday Jun 23, 2023
Friday Jun 23, 2023
Embark on an extraordinary journey into the realm of leadership under pressure with our guest, Mark Bertagnolli, in this captivating episode of 'Surfacing Leaders' titled "Leadership Under Pressure: From Silent Depths to Roaring Markets, Lessons in Thriving in High-Stakes Environments." Join us as we delve into the remarkable story of Mark's ascent first as a US Navy Nuclear Submarine Officer to conquering the high-stakes world of Wall Street.
Mark first emerged as a leader in the depths of the ocean, where silence reigns and the weight of responsibility rests on a select few. Like our host, Marc Koehler, Mark mastered the art of navigating treacherous waters on a US Nuclear Submarine (in fact, the very same submarine Marc was on), instilling in him the virtues of accountbility, clear communication, and unwavering determination. Mark truly surfaced as a leader in this challenging and unforgiving environment.
However, his journey didn't end there. Transitioning to Wall Street, Mark discovered a whole new battlefield—where the stakes were high, the markets roared, and fortunes were won or lost in the blink of an eye. Yet, armed with the lessons learned from the submarine, Mark fearlessly embraced this dynamic realm, emerging once again as a leader in the fast-paced world of finance. 
Throughout this episode, we unearth the valuable insights Mark gained from his unique leadership journey. From fostering clear expectations to empowering his team, and navigating through structured processes to making informed decisions, Mark honed the skills necessary to thrive in high-stakes environments. His journey exemplifies the resilience, adaptability, and unwavering spirit required to lead with excellence.
Beyond his achievements in the naval and financial domains, you'll also hear how Mark has continued his pursuit of leadership and impact in an entirely new arena. Today, he dedicates his time to cancer research, working tirelessly to make a difference in the lives of those affected by this formidable disease. Through his commitment to scientific exploration, innovative thinking, and compassionate leadership, Mark Bertagnolli continues to surface as a leader in the fight against cancer.
Join us as we embark on this extraordinary expedition with Mark Bertagnolli, where we navigate the depths of leadership and emerge stronger, more resilient, and inspired. "Leadership Under Pressure" is an episode that will captivate, inform, and motivate leaders from all walks of life. Get ready to set sail and explore the profound lessons learned from Mark's journey, as he surfaces as a leader time and time again, leaving an indelible mark in the realms of submarines, finance, and cancer research.