Episodes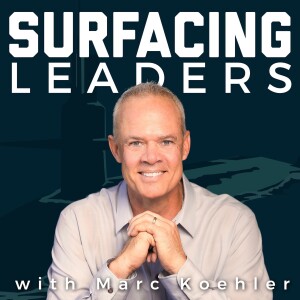 Friday Aug 04, 2023
Friday Aug 04, 2023
Episode 6 of Surfacing Leaders, "From Rookie to Fire Chief: Unveiling the Heart of Fire Service Leadership" delves into the inspiring journey of David Parsons, a remarkable firefighter who rose through the ranks to become Oceanside, CA's Fire Chief -- the first Chief to begin their career graduating from Oceanside Fire Academy more than 20 years ago. Hosted by Marc Koehler, the episode follows David's story of surfacing as a fire service leader, explores the essence of leadership within the fire service,and the unwavering dedication firefighters have to serving their communities.
Throughout the episode, David shares his remarkable experiences, beginning from his early days as a young firefighter with a passion for helping others. You'll hear his evolution from a rookie firefighter to a seasoned leader, facing numerous challenges and triumphs along the way.
The episode emphasizes the essential qualities of a firefighter, including physical resilience, mental toughness, and a servant's heart. David's anecdotes shed light on the demanding and dangerous nature of firefighting, showcasing the critical importance of teamwork, trust, and effective communication in saving lives and protecting communities.
But this episode goes beyond the fire service. It's about the power of mentorship and self-awareness, the importance of collaboration, and the lessons in authenticity that transcend any leadership context. You'll hear captivating anecdotes, shared by David himself, that offer valuable insights for all of us who strive to be better leaders."From Rookie to Fire Chief" also highlights the significance of mentorship in shaping effective leaders. David fondly recalls the impact of his mentors, whose guidance and support inspired him to be true to himself and his values. He stresses the need for leaders to know themselves intimately, embracing both strengths and weaknesses, while fostering transparency and authenticity in their interactions.
The episode concludes with a profound message about the power of collaboration and inclusion in decision-making. David firmly believes in involving others in the decision-making process, fostering a sense of ownership and buy-in among his team.
"From Rookie to Fire Chief: Unveiling the Heart of Fire Service Leadership" not only celebrates the courageous efforts of firefighters but also offers valuable insights into leadership that transcend the fire service. It is a compelling exploration of how dedication, integrity, and a genuine commitment to serving others can shape exceptional leaders who make a lasting impact on their communities.