Episodes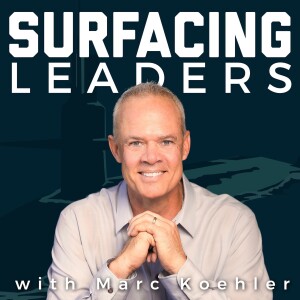 Friday Jul 21, 2023
Friday Jul 21, 2023
Episode 5 of Surfacing Leaders brings you the engaging and inspiring story of Commanding Excellence: The Art of Continuous Learning as a Military Leader. Host Marc Koehler sits down with Jeff Jarosz, a former Marine Corps officer with a remarkable career in military leadership. From serving under renowned leaders like former White House Chief of Staff John Kelly to Admiral McCraven during the Special Forces operation that killed Osama bin Laden, Jeff surfaced as an exceptional leader in every assignment.
In this episode, Jeff shares invaluable insights into seamlessly transitioning his leadership expertise to the corporate world. From building cohesive teams to making critical personnel decisions, his wisdom is pure gold for aspiring leaders.
What sets this episode apart is Jeff's profound thoughts on learning and leadership development, deeply resonating with Marc's own leadership philosophy. Emphasizing the never-ending process of growth, Jeff believes in being a constant student of leadership. He shares his approach of seeking knowledge from various sources, including books and experiences beyond the military domain.
As fellow military veterans, Marc and Jeff's unique connection adds an extra layer of depth to their conversation. This inspiring journey reveals the pivotal role mentorship played in shaping their leadership paths.
Get ready for an enriching experience as Jeff's stories and insights will leave an indelible mark on your leadership philosophy.