Episodes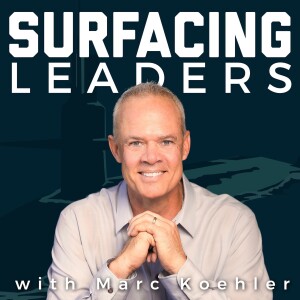 Friday Oct 27, 2023
Friday Oct 27, 2023
In this inspiring episode of Surfacing Leaders, host Marc Koehler welcomes Coach Frank Zimmerman, a remarkable guest whose life story is intrinsically tied to the world of soccer and Marc himself, as they have coached together and been friends for almost 20 years. Join us as we delve into the extraordinary journey of an unsung hero, renowned in Southern California for his profound impact on the community.
Frank Zimmerman, a true embodiment of the adage that a coach can touch more lives in one year than most people do in a lifetime, has dedicated his life to coaching soccer in Oceanside, California, and beyond. Aside from the trophies and wins, he's honed a legacy built on shaping not just skillful soccer players but also nurturing future leaders and responsible individuals.
Through guided discovery, personal readiness, and technical expertise, Frank has used soccer as a vehicle to impart life skills that transcend the boundaries of the pitch. From teaching the youngest players the art of "selfishness" to understanding the complex interplay of personal and collective readiness, his unique coaching philosophy emphasizes the importance of skill development and teamwork, which can be seamlessly translated into the business world of coaching leaders.
In this episode, Frank and Marc discuss how the same principles that Frank employs on the soccer field can be applied to the corporate world. They explore the idea that coaching and mentorship are powerful tools for fostering leadership qualities, problem-solving skills, and emotional intelligence among players and employees alike. Frank's unwavering commitment to personal growth and nurturing talent provides valuable insights for listeners in both sports and business.
The episode takes us on a journey through Frank's exceptional career, highlighting the significance of parent involvement, advocacy, and building relationships in creating successful young athletes and, more importantly, well-rounded human beings. This episode is a testament to the idea that sports, when guided by compassionate mentors like Frank Zimmerman, can indeed be a powerful force for positive change, leaving an indelible mark on communities and individuals alike.
Join us as we celebrate Frank Zimmerman's remarkable contributions, his boundless dedication to soccer, and the profound impact he has made in shaping the lives of future leaders through the beautiful game.